The 3rd edition of the Harold Jacobs Geometry textbook has gone through three different printings with 3 different covers and ISBNs. If you are picking a text and looking at used options, it can be confusing. So let me try to help.
First, all 3 versions are basically the same – as long as they say 3rd edition. They look like the photos below.
The Three Geometry Textbook Versions that Still Work
The original published by Freeman – ISBN: 978-0-7167-4361-3 and the corresponding Teachers Guide which contains the solutions to the problems. This book had a separate Test Bank for tests. The second printing published by My Father's World – ISBN: 978-1-61999-109-5 and the corresponding Teachers Guide which contained the tests and the Answer Key.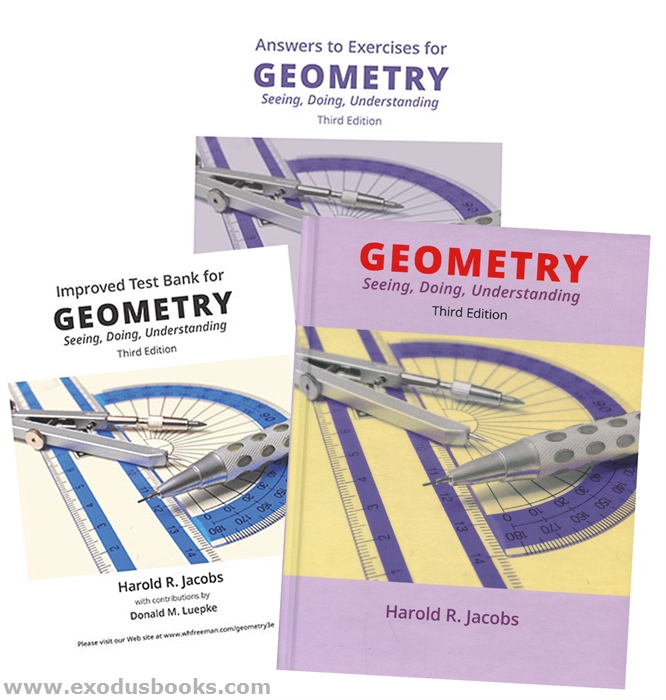 The third printing published by Master Books – ISBN: 9787-1-68344-020-8. This is the latest and if you are buying new, this is what you are getting. The tests are in the Teacher's Guide and the answers are in the Solutions Manual. You will need all 3 books for the course.
The Geometry Videos that Support the above Books
All 3 of the printings will work with the AskDrCallahan videos. The various printings have minor changes in page numbers, drawings, and some problems have changed – but the basic content remains the same. But, just to be more confusing, the videos come in 3 different packages. All are the same content but they might look different. All require the student to have one of the 3 textbooks, the tests, and a set of solutions.
1 – The online videos, offered by AskDrCallahan, contain the same instruction, and bypass the need for DVDs and a DVD player. They are the same content as on the DVD. The online videos come in two options.
Monthly option – Pay for the course monthly and cancel anytime by logging into your AskDrCallahan account (or email us to cancel). This option is perfect if you think you will need just a few months.
Lifetime access – If you need a full year, or have siblings who might use the course later, then this is your option. One price one time.
2 – The latest version of the DVDs is published by Master Books – UPC: 713438-110236-8
3 – The original DVDs published by us (AskDrCallahan) and no longer available new.  -ISBN:978-0-615-27810-0